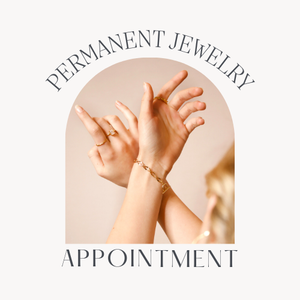 UNTIL 02/10/2023 PLEASE CALL 908-968-3391 TO BOOK AN APPOINTMENT!
One appointment per person. Please choose one timeslot for each guest and arrive a few minutes early to your appointment. Before booking, we recommend you visit our FAQ page covering everything you need to know about permanent jewelry! 
Attachments and Sage is offering permanent jewelry! You heard that right, jewelry you never have to take off. The process is simple: you pick the chain, we custom fit it to your wrist or ankle, zap the chain together, and ta-da, you have a beautiful piece of jewelry meant to last! 
We offer a variety of 14k gold-filled and sterling silver chains that make the perfect delicate piece you can wear forever.
To guarantee you get a permanent piece we recommend booking an appointment which can be made through our website. We require a $20 deposit which will go towards the price of your jewelry pieces.